FIFA 16 Ratings Predictions: 70 - 61
What's this feature all about? Well, the whole team (Dave, Tom, Dan and Aaron) has taken the current Top 100 players from FIFA 15 and over the next few weeks we'll be predicting whether we think their rating will go up, down or stay the same. We'll base that on some performance stats from the season just past, a little bit of opinion and then we'll finally arrive at a new predicted OVR for FIFA 16. Once we're done we'll also look at a bunch of players who we think will enter the top 100 for the very first time.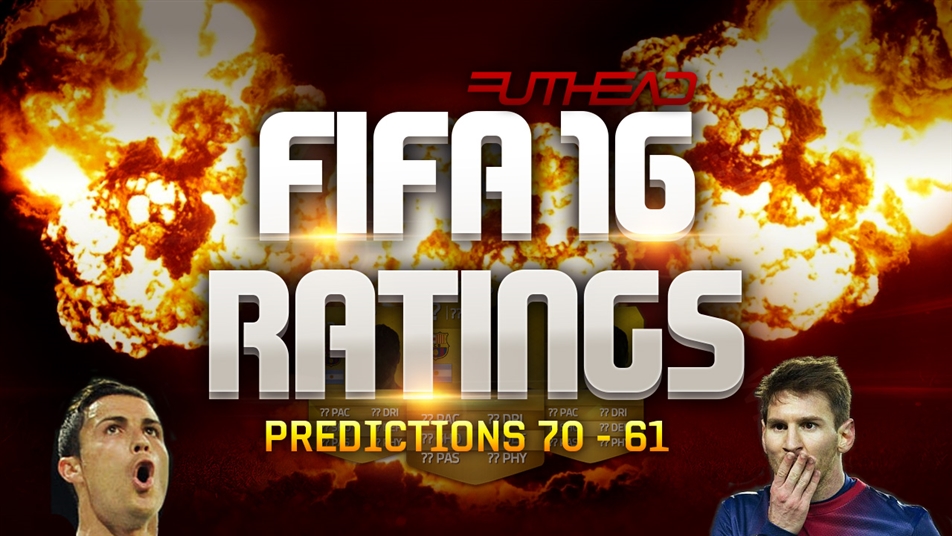 But, we are not the oracle of FIFA ratings predictions (well, a bit) so if you don't agree with us, get in the comments and tell us why Futhead community?
70 - Claudio Bravo (83 > 84)
Barcelona's league keeper has had a really great season in La Liga terms but also across Europe with Claudio Bravo claiming more clean sheets, saves per goal and (almost) the least goals conceded compared to Casillas, De Gea and Neuer. Fine company indeed, with only his age limiting his upgrade potential.
69 - Ivan Rakitic (83 > 85)
I think it might be his glorious golden locks which sway so beautifully in the breeze, but I blummin love Ivan Rakitic, and his start to life at Barcelona has been really strong since his move from Sevilla. He's only going to become more accomplished as well, so we can see him netting a very nice upgrade this time around for FIFA 16.
68. Miranda (83 > 83)
Quieter season for Miranda this time, after last year's heroics with team mate Diego Godin. Atletico have fallen short of previous achievements also (which is understandable) but Miranda remains a steady CB option for Simeone if he stays this summer. Gimenez looks the real deal though, and may limit the Brazilian's future opportunities.
67. Dani Alves (83 > 83)
New contract signed, and with it Barcelona hero status secured. No matter how many times he's written off Dani Alves seems to come back stronger and this season's tally of 11 assists from fullback is among the best in Europe. The only thing stopping his rating moving is age, but we of course hope and pray that he'll be 95 rated in FIFA 16.
66. Javier Mascherano (83 > 83)
A bit like Pepe I guess, in that Mascherano's place may come under threat eventually by a younger model, but his influence in this Barcelona side right now, is as strong as ever. Whether in midfield or defence he goes about his business quietly and effectively making him an integral cog in the Barca machine. Who for now, isn't going anywhere just like his rating.
65. Pepe (83 > 83)
With Varane waiting in the wings Pepe may struggle to get past 30 appearances in the upcoming Real Madrid campaign, but if and when he is called upon his reliability is simply unquestionable. Prone to being an absolute knob-end as we all know but he's still a resolute, top level defender in spite of all that unsavoury business.
64. Salvatore Sirigu (84 > 83)
PSG had a great season defensively which you'd think would secure Salvatore Sirigu's rating, but given that he was outperformed consistently by the likes of Ruffier, Lopes, Subasic and Mandanda. We think he'll drop ever so slightly in line with his status in the Ligue 1 goalkeeping pecking order.
63. Mehdi Benatia (84 > 84)
Benatia has had a bit of an indifferent first season with Bayern making just a sprinkling of appearances per calendar month, due to some niggling injury problems. He'd of hoped to have settled better, but a bad player he is not. The jury is out for now, so we can see him sticking at 84 if EA are in an overly generous mood.
62. Oscar (84 > 84)
Oscar started the season really brightly with goals and assists coming almost every other game for Chelsea. In the final 15 fixtures however, he managed only one assist and played the full 90 minutes just 3 times. But due to Chelsea's dominance, his age and his undoubted ability, his 84 rating should remain intact.
61. Alexis Sanchez (84 > 86)
The Chilean wizard has enjoyed an incredibly successful first season in the Premier League, helping Arsenal to 3rd (not 4th) and FA Cup Final glory. 25 goals and 10 assists in all competitions is just insane from mostly wide positions which should ensure that Alexis gets a tidy upgrade in FIFA 16. The little dream boat.