FUTMALL FIFA Ultimate Team Week 44 TOTW Predictions
A couple of south American leagues join the action with Argentina and Colombia starting their domestic competitions. The TOTW's will start to pick up again now especially with Russia starting next week! As for this week we have the likes of Giovinco, Scocco and Oduro!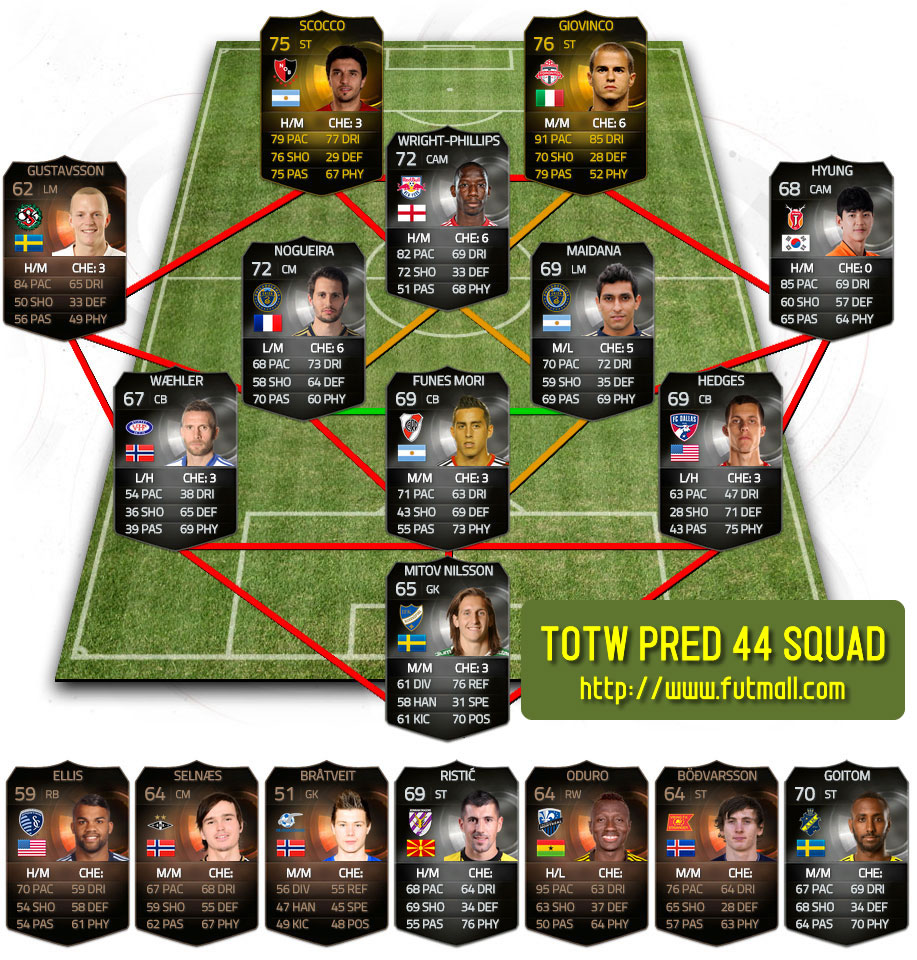 Goalkeeper
David Mitov Nilsson - GK - 65 OVR
Norrköping registered yet another impressive result as they drew 0-0 away at Goteborg although it was largely down to their keeper as he made a total of six saves, one of which was a 83rd minute penalty. This results keepes them in touching distance of first.
Defenders
Ramiro Funes Mori - CB - 69 OVR
Although it was a disappointing 1-1 home draw for River Plate as they hosted Temperley this weekend it could have been a lot worse had Funes Mori not executed a superb free kick to open the scoring. The fact that River Plate didn't win could harm his chances however I expect to see at least a couple of Primera division players and Mori fits the bill perfectly.
Kjetil Wæhler - CB - 67 OVR
Kjetil Wæhler makes this weeks side after scoring one of Valerenga's two goals as they managed an easy 2-0 win against bottom placed Sandefjord. Waehler claimed MOTM however Grindheim was a close second after assisting both of the goals. I wouldn't be that surprised to see Grindheim included but for this prediction I have opted for Kjetil.
Matt Hedges - CB - 69 OVR
The United States international made an impressive 11 interceptions with four tackles to go with that which ultimately helped Dallas to not allow a shot on goal at the Citrus Bowl. Dallas ended up coming out as 2-0 winners after Diz and Teixeira found the net.
Midfielders
Song Jin Hyung - CAM - 68 OVR
I am not entirely sure how Hyung is yet to pick up an IF however this week surely must be his week after he claimed MOTM for scoring twice in Jeju's 4-3 away win against Pohang. It is rare that a seven goal thriller goes unnoticed and Hyung is the obvious choice here.
Vincent Nogueira - CDM - 72 OVR
Philadelphia played out a 3-0 home win against Portland this week, Nogueira was heavily involved in the result after scoring twice from the CDM position. The clean sheet will only help his cause here and thus looks a safe bet to make this weeks side.
Cristian Maidana - CAM - 69 OVR
From the same game we have another Philadelphia player after he assisted all three of the goals in their previously mentioned 3-0 home win. Will we see both included only time will tell, both deserve their inclusions though that's what I can tell you.
Daniel Gustavsson - LW - 62 OVR
Gustavsson played a pivotal role for Orebro as they managed to upset Malmo by coming away with a 2-2 draw. Gustavsson was involved in both goals with a goal and assist. Seeing as it was against Malmo I feel that he has done enough to be selected here.
Forwards
Sebastian Giovinco - ST - 76 OVR
In what was the most exciting game of the weekend by far Toronto managed a 4-4 away draw against NYFC, not to mention there was also 2 penalty misses. Giovinco scored three of Toronto's four and assisted the other. Although he did miss a penalty the three he did score should be enough to see him included. Villa once again scored twice and like Giovinco he missed a penalty. He was snubbed last week though and I presume that the same will happen here.
Ignacio Scocco - ST - 75 OVR
The only Primera division player of which I am certain of this week is Scocco after he was involved in all three of NOB's goals, scoring twice and assisting the other as they managed an impressive 3-0 home win against Racing Club.
Bradley Wright-Phillips - ST - 72 OVR
There are three players from NYRB's who could realistically feature this week after they managed a 4-1 home win against New England. Firstly we have the selected BWP who scored two of the four goals but we also have Mccarthy who assisted two and Sam who claimed a goal and assist.
Substitutes
Per Kristian Bråtveit - GK - 51 OVR
Due to this measly rating it is highly likely that this will be a very pointless IF but nevertheless he deserves his spot this week after Haugesund continued Molde's poor start to the season after managing a 1-0 win. Bratveit rightfully claimed MOTM after making a total of 8 saves to deny Molde and thus makes my prediction this week.
Kevin Ellis - CB - 59 OVR
Ellis looks set to pick up his SIF this week, which will be a silver. Ellis scored the lone goal in SKC's visit to Vancouver Whitecaps. He once again played in the CB position instead of his NIF's RB which at 5ft 8 is not ideal for a CB really.
Ole Kristian Selnæs - CM - 64 OVR
Rosenborg were coming off the back of a disappointing 1-0 away loss to Bodo Glimt and were in need of a reaction to that. A reaction is exactly what they received as they managed an impressive 3-0 home win. Selnaes was the MOTM with a goal and assist and in such a big game I feel that that is enough.
Dominic Oduro - RM - 64 OVR
Oduro is always a favourite in MLS tournaments and for those with a large budget an IF should be available for you this week after he scored twice for Montreal as they overcame Columbus with a 3-0 home win. So much pace!
Jón Daði Böðvarsson - ST - 64 OVR
As you can probably see this player does not have the easiest of names to type out or read so to make things easier I will refer to him as Jon. Jon played a massive part in Viking's 4-1 win at home to Aalesund this week scoring twice and assisting another. Quite a few strikers performed to a high standard this week meaning it's the first time in a while that two goals is not an automatic IF.
Stevica Ristić - ST - 69 OVR
Ristic has been scoring a fair few goals in recent weeks and has been crucial to Jeonnam's good run of form which has seen them lose just one of their last 9 games. This week was o different as Ristic scored on the 80th minute before scoring again on the 90th to secure a 3-2 away win against Daejeon.
Henok Goitom - ST - 70 OVR
After AIK had played a Europa league qualifier mid week fatigue can often kick in however that was not the case here, at least it was not shown as AIK managed a 4-1 win at home to Sundsvall. Goitom was involved in all four of those goals finding both two goals and two assists. The Allsvenskan is not really my strong point but Goitom picks himself here.